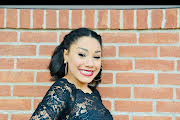 Chole Dotson
How did you prepare for your audition?
We had to sing Under the Sea for the audition. I had to pretend as if I was Ursula singing under the sea, to show some characterization.
Were you surprised when you got this role?
I was surprised when I got Ursula. It has always been a dream of mine, since the last time I've done this musical. I was previously a Mersister!
What has been challenging about this musical?
Something I find challenging would definitely be the short amount of time we have to put this show together. I definitely have to take responsibility for my own part, and practice at home as well as in rehearsals. 
How much time do you spend rehearsing each week?
Right now I spend about two hours at after school rehearsals, and about four hours throughout the day when I'm home from school.
What is the most difficult scene to perform in the musical?
My most difficult scene is my death scene. There's so much going on, all while singing and being evil.
What is your favorite part about your role in the musical?
My favorite part about Ursula is definitely how cold she is inside. I am the complete opposite in real life, yet evil characters are just so easy for me.
What is the most difficult song you have to sing and why?
My most difficult song is "Daddy's Little Angel". This song isn't in the Broadway version, so it was completely new for me to learn. It also doesn't help that this song is the most important song, as it tells the whole family relationship with Ursula, Triton, Poseidon and the daughters.
What is your favorite part of this musical?
My favorite part about this musical is the fact it's a Disney musical. I love when shows attract younger audiences. Seeing them so excited to see the characters is just so cute.
Anything else you would like to add about the musical?
I also want to say that everyone should come see this wonderful cast. This show is beautifully casted. It's going to be amazing with everything we have in store for the audience. This is my senior musical and I cannot wait.