Alumnus speaks to students during Black History Month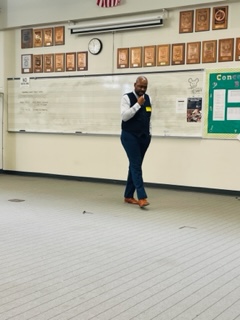 February, the shortest month, the month of love, but also the month of Black History. GlenOak wanted to take advantage of this Victoria Newkirk, the Director of Equity and Inclusiveness, decided she was going to embrace Black History and Culture and give students of all races and ethnicities a chance to learn from a successful black man from their very own, GlenOak High School. 
On Feb. 15, GlenOak alumnus, author, small business owner and mayor candidate, Willis Gordon came to the school to speak to students about his career, his life experiences, and what other options are out there for students. His visit was more than just a quick visit from an alumnus, it was a planned visit with a purpose. 
"I wanted to expose children of color and white children to great things that are happening in Stark County. To introduce them to black leaders in Stark County, because a lot of times they don't see themselves in leadership at school, to show them representation matters," Newkirk said. 
This visit from Gordon meant more than just listening to him speak, it was to show students of color that they are capable of the things they've only seen white people do and to show white students that the black excellence goes beyond what they've seen in school. 
"Somebody in that room, I believe one day will be able to tell a story and say 'I got into politics because in the 9/10/11/12th grade I went to a Black History Program and saw a guy running for mayor. I've never even considered it, until I was up close with a person like that' that is what I aimed to accomplish, to expose them to that," Newkirk said. 
Newkirk hopes that seeing black excellence will allow students of color to be open to more new opportunities they've never even thought about. To allow them to have access to see all of the things that are open to them and see people just like them in positions of power so they can imagine themselves in those positions. 
Exposure to black excellence in positions that students don't often see was one of the main goals for the Black History Speakers events. They tried to achieve this by having Mayor candidate Willis Gordon come in to speak. 
"I love our city, and I see the potential in our people, our neighborhoods, and our businesses. I've been working behind the scenes for years now, but I feel a deep need to restore a sense of pride and safety in our city now more than ever," Gordon said. 
Gordon has lots of love and compassion for the city of Canton and its people. His goal is to show them he cares.
"I came to GlenOak to speak a bit about my experiences, and hopefully let students know there are plenty of paths to success from these hallways. Racism, poverty, injustice, violence. These things affect all of us, but we have the power to fight back," Gordon said
Gordon used his own experiences and life to connect with students and make them feel seen, but also show that despite any challenges they might face, they will be able to overcome them and do something great, even if no one from their family has done it before.
"You've got to take of the things that take of you. My time and my voice are the least I can give to my old school," Gordon said.
This was important for Gordon to do, almost an obligation. It is important to him to give back and giving back to his school isn't an expectation. 
Having an impact on the students was the most important thing for Newkirk and Gordon. They wanted to show them that they were heard and seen and that they are capable of many things.
"If we find things that are meaningful to the students, the students pay attention to it," Newkirk said. 
Connecting with the students and listening to the students is just as important as teaching them, it's also the best way to teach them. Making students feel seen and represented was the ultimate goal of this whole experience. 
"Aspiration requires example. If you want to be it, you gotta see it," Gordon said.