Art students win Gold and Silver Key awards

The Gold and Silver awards allow students from multiple different art classes to have to the chance to get their art displayed for many people to see. There are many different categories involved in this, such as photography, painting, or drawing.
A Gold Key is similar to first place, and multiple of these are given per category. The winners of a Gold key get their art displayed at the regional level and move on to be judged at the national level.
The Silver Key award is equivalent to second place, and each category gets multiple of these. These pieces will also get displayed at the regional level, but will not move on to Nationals.
"I was really happy when I found out I won a gold key, because I didn't expect to win," said art student Isabella Victory. "I am really proud of everyone else that won."
All the different teachers involved with this are the ones who select work to be judged. They base it off of which student's work best demonstrates exemplary skill and vision.
As for the people who judge the artwork, they are from a variety of areas. They can be retired art teachers, museum curators, art professors, etc.
The students who won Gold keys this year are Kyra Koprowski, Jenna Ritchey, Deanna Hay, Jenni Greathouse, Nalyn Schell, Isabella Victory, Alexis Hutchinson, and Katelynn Rogers.
Below is a small sample of the student artwork.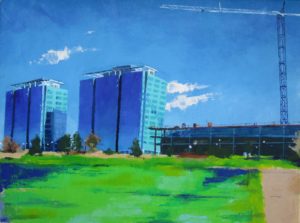 Kyra Koprowski, acrylic paint: "Morgens and Scioto"
Deanna Hay, charcoal and string: "Doubt"