Sports round-up: Week of Sept. 14-18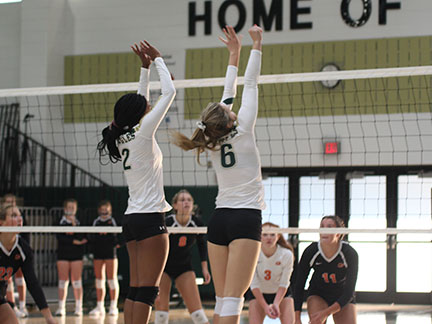 Volleyball
The girl's volleyball team traveled to Perry for their fifth game of the season on Tuesday, Sept. 15. The game went into five sets– two more than the average amount. Perry won three out of the five sets with a score of 11-15 in the final set. The volleyball team is now preparing for their away game against Lake on Saturday at 10:00 a.m. at Lake.
Lydia Ayers
Football
The varsity football team lost Friday's away conference game against Jackson with a score of 20-22. GlenOak was up by 20-10 entering the second half. GlenOak was led by Ricky Adams who completed 8 of 22 passes for 108 yards and 2 interceptions plus 16 rushes for 112 yards. Luke Tyler also had 22 carries for 62 yards and a touchdown. Tyler has the 5th most rushing yards in the state for the first three weeks. This Friday's night game for GlenOak will be an away game against Lake.
Donovan Votypka
Boys and Girls Cross County
The boys and girls cross country team competed in the Early Season Federal League Invitational, at its home course on Sept. 12. The boys placed fourth and the girls placed third. There are many new rules for this year's season, such as; you must have a mask on at all times, only two spectators per runner, and you must socially distance yourself from other families. Athletes must wear a mask at all times, but do not have to when they are warming up or running in a race. On Sept. 19 the cross country team will race in Boardman.
Jenna Delp
Tennis
The tennis team played Massillon on Sept. 14, and Orville on Sept. 15. Both junior varsity and varsity have done an amazing job so far and are being led by team captain Elaina Norris (Junior). Singles players this week are Elaina Norris, Kennedy McGuire and Ella Watson. Overall, the team has made progress throughout the summer and continues to do so for the remainder of the season.
Tajouis Alkaied
Boys Soccer
This past Saturday, the boys soccer team took on St. Vincent-St. Mary's at their stadium. The JV team, after a slow 1-1 first half with a goal by sophomore, Dakota Preusser, had a strong second half with two goals by sophomore, Luc Thompson, and one by senior, Matthew Garfinkle, to end in a 4-1 win. The varsity team had a solid performance with a goal in the first half by junior, Silas Kadlicek, leading to a 1-1 tie.
Matt Garfinkle
Girls Soccer
The week of Sept. 9, the team played against Green. JV lost 0-3 and varsity won 2-1. On Sept. 19, they played Nordonia, JV tied 1-1 and Varsity lost 1-4. On Sept. 16 they played Jackson, JV lost 1-3 and varsity lost 0-4. Saturday the girls play home against Canfield.
Mia Russo
Boys Golf:
Boys golf team played Jackson, Lake and Central Catholic. The team lost to Jackson on Wed. night at the Shady Hollow course. Kyle Jordanides shot a 41 on the course. The team plays on Monday, Tuesday and Wednesday of next week.
Sydney Maddox
Girls Golf:
On Thursday, the girls golf team placed 5th at Medina Country Club with a total of 349. Junior Maddie Reemsnyder placed third as an individual with a 73. On Monday, the golfers won against Medina at Sanctuary, but lost their Tuesday match to Green at Turkeyfoot."
Next week the team plays Boardman, Hoover and Upper Arlington.
Lauren Petro