Dealing with game day headspace
Mental health plays one of the greatest roles in athletic performance
Game day, one of the most important days for athletes. A lot of work goes into being ready to compete on these days. From the practices the days before, eating right, resting, but most importantly, getting mentally ready. 
Mental health plays a key aspect in all sports. According to Doug Gardner, Ed.D, he says that, "sport is 100 percent mental." This is becoming an even bigger subject today, even just looking at Simone Biles and how she did not compete in half the olympics because she was not mentally ready to compete. GlenOak athletes have also seen these issues arise during their seasons.  
Senior tight-end on the varsity football team, Conner Teter, talks about how mental health plays one of the largest roles on Friday nights. 
"Football is a life or death game so if you're not mentally ready you can get seriously hurt. Adversity hits at all times during a game," Teter said. 
"
"Football is a life or death game so if you're not mentally ready you can get seriously hurt. Adversity hits at all times during a game." "
— Conner Teter
While football and soccer are very different sports both of them can lead to injuries when not in the right mental space. On the girls varsity soccer team, senior Alexandra Sedmock talks about how mental health affects soccer players. 
"I think mental health plays a huge role in sports," Sedmock said. "If you're not mentally ready you will not perform your best or you could be distracted, which could lead to an injury."
Getting injured on the field when athletes are not mentally prepared can damage your mental health severely. According to Ohio University Online Master of Athletic Administration, injuries put student athletes at higher risk for anxiety, depression, and suicidal thoughts. 
To say the least, not being mentally prepared for a game can be influential, which is why taking the right steps before a game is very crucial. Junior Gavyn Leach plays varsity lacrosse in the spring and takes steps before each game to ensure that he plays his best. 
"I listen to music, play some wall ball and make adjustments to my stick," Leach said. 
As each sport and player is different, there is no right way to prepare yourself as long as you are ready to go by the time the game starts. But there are some instances where players are not ready by game time and players need to know how to deal with it once the game starts. 
"Try to remain calm and go through the game in your head in order to prepare," Sedmock said. "It helps to talk to a teammate or a coach because they can help you see a different perspective on something."
Even doing little things like talking to yourself about what is going on can make all the difference. 
Apart from game time, school work loads can also have an affect on an athlete's mental health. Some find it a struggle to find time to get their work done when they also have long, frequent practices. 
"Plan on the times when your practice/games are and do school work before and after if you need to," Leach said. 
Learning how to balance sports and school and whatever else may take time in athletes lives can continually increase their performances. 
On the other hand, the drive to become better in their sport could potentially lead to a decrease in their mental health. Teter talks about how sometimes it gets to a point where it was affecting his mental health. 
"I know for me I would stay up until 3 or 4 in the morning watching film and then I would sleep in school and it would affect my mental health because I wasn't there or feeling good myself," Teter said.
This goes along with the aspect of doing everything for the game even though it is not mentally or physically good for them. At points like these, managing their time and taking time to work on their mental health can be one of the best things they can do for themselves. 
Your donation will support the student journalists of GlenOak High School. Your contribution will allow us to purchase equipment and cover our annual website hosting costs.
About the Contributor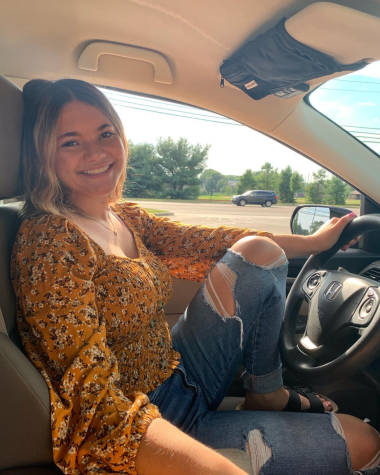 Mia Russo, Managing Editor
Mia Russo (she/her) is a senior at GlenOak this year. This will be her fourth year on staff as a managing editor. Mia is involved in light and sound, student...