A new player sets the stage
When people think of new sports to try out for, they often think of football, baseball, soccer, cross country or track. But while the fall season approached, students turned to tennis as an opportunity to try something new. 
The tennis team has been growing with 11 new students and 4 more wins under their belt compared from just last year. 
The tennis team consists of a Varsity and JV team. Both teams have players of various grade levels, which creates different skill levels on both teams.
"The team may be younger than other programs, but that doesn't mean we don't put in the same amount of effort as other sports," senior Ella Watson said.
Watson has been playing since she was 4 and has been on the team all throughout high school. She is excited about the new players giving tennis a try.
"There are a lot of new kids on the team this year, but by how the coaches have our practices and matches set up, the younger kids and even the older kids can always learn something new from each other," Watson said.
One of the newer players that Watson said to be someone who has improved a lot over the course of the season so far is senior Sophia Hennessy. 
"Sophia is a very motivated player. She's always trying to get better, and she's always cheerful and excited to play which really helps the mood for the whole team," Watson said.
Although she is new to the sport, she has learned a lot in a short amount of time.
"When I first started I didn't know any of the fundamentals of the sport, but by playing in the summer with my sister and having help from the coaches, I've started to get a feel for how to play," Hennessy said.
Hennessy has no background in the sport but thought it would be fun to play. 
"Tennis is the type of sport that you don't need many years of experience to play and still have fun," Hennessy said.
On the tennis team there are two coaches, one head coach and one assistant coach. These coaches mentor the girls to shape them into better tennis players. The girls are pushed, taught and critiqued on how they can improve.
"The coaches divide their time up very well during practice so that they can focus on everyone on the team," Hennessy said.
Hennessy not only plays tennis, but she also plays lacrosse. Tennis has helped her become more aware as an athlete.
"In tennis it's kind of like a team sport like how lacrosse is, but it really has helped me allow myself to focus on what I need to do specifically to get better because at the end of the day it's the team score that matters," Hennessy said. 
The tennis season is not a very long one, but Hennessy has already won every match except one so far. 
"I don't regret starting my senior year because it's helped me become a better athlete, but with the improvement I've made so far it's kind of hard not to think about how good I could have become if I decided to start earlier," Hennessy said.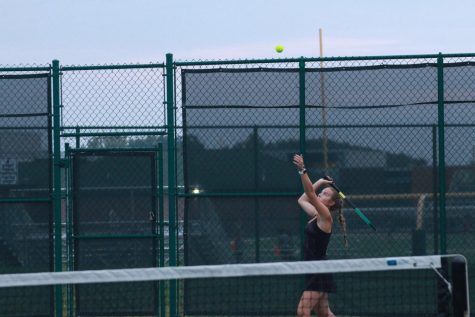 Despite the fact that Watson started earlier than Hennessy, they both agree that tennis is a fun sport to participate in, the team has a very safe and supportive environment, and they both think students should consider playing.