Student begins book club for student body
Recently the high school added a book club for students to join and attend after school. The club is run by English teacher, Jessica Cunningham. Michaela Walther, senior, is the president of the book club, while sophomore Anna Krueger is the vice-president.
Walther was the one who came up with the idea of a book club and runs the communication and engagement side of the club, while Cunningham runs the google classroom and operational side.
"The idea to start my own book club first came to me last year (junior year) and I thought about it all summer.  I thought, What is stopping me from creating my own club?  That way I can meet people my own age and pick books that I would like to read.  So I did, and it has been one of the best choices of my life," Walther said.
Walther also runs the meetings by getting to know every member of the club while keeping them active in the discussion. There are currently 20 members in the book club, but they are looking for more people to join.
"My favorite part of the club is definitely the discussions over the month's book.  In October, our book was The Haunting of Hill House, which was our first official reading.  I had read the book before and I think that the general view of the book was pleasant and it was very interesting to see other people's views on different parts of the book," Walther said. 
They just finished reading The Haunting Of Hill House by Shirley Jackson, and now, as of November they are reading Paper Towns by John Green.
"During our meetings, we discuss information about the author, the plot, characters and overall feelings about the novel,"  Cunningham said.
Students are given the book to read and review, then are able to share opinions and thoughts about the novel during meetings. They can inform, debate, or ask any questions they have about the book to get a greater understanding of the material.
"I joined because I wanted to explore more kinds of literature. I wanted to talk and think about them in more of a critical thinking way. I thought joining the club would be a good way to do that," sophomore Angie Aikens said.
"
I joined because I wanted to explore more kinds of literature. I wanted to talk and think about them in more of a critical thinking way. I thought joining the club would be a good way to do that."
— Angie Aikens
Students interested in discussing and learning about novels that you don't have the opportunity to in class have free-range to talk without judgement or rush.
"I joined book club because I wanted to get back into reading and my friend agreed to join with me, so I wasn't alone. I also really enjoy talking about books and being openly able to express how I felt about it," sophomore Eve Dadlez said.
During the beginning of their meeting on Oct. 25, they started off the meeting by talking about suggestions on books they could read in the future, followed by a short synopsis from teacher Aven Snyder(who also helps out with the meetings), and Cunningham on what they were about.
Next the students talked about the book, The Haunting of Hill House, and their opinions on the  book as a whole and how they felt about  the characters while going more in depth than you would in a normal classroom environment.
Walther read and asked questions to members and kept them engaged in discussion.
"The back of the book is just misleading. I was very confused. It came off creepy at some points," Dadlez said.
When talking about their perceptions on the book, Walther asked if they would recommend the book. They all overall agreed they would. A few even said the book is confusing at times but still liked the way it was written.
They talked about the novel's heavy usage of symbols throughout the novel and how they play an important role in the way the story is told, such as "a cup of stars".
Members were eventually dismissed to go home and that concluded the meeting.
"I am passionate about this club because I think more people our age need to see the side of reading that I (and my fellow readers) see," Walther said.
Overall, the book club focuses on in-depth reviews, analysis, and discussion on the novel they read. Students have the opportunity to talk more about books they are interested in or might not ever read in their spare time while building connections and even friendships at the same time.
Your donation will support the student journalists of GlenOak High School. Your contribution will allow us to purchase equipment and cover our annual website hosting costs.
About the Contributor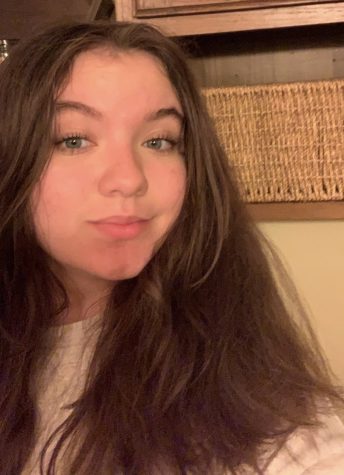 Gianna Cavalier, Staff Writer
Gianna Cavalier (she/her) is a junior at GlenOak this year. This will be her second year on staff as a staff writer. Gianna is involved in commercial photography...