Best Movies of 2021
After nearly two years of the COVID-19 pandemic, the climate of movies has changed. 
It is common for movies to release on streaming immediately after premiering, which is vastly different from the history of movies thus far. 
During new releases, movie theaters used to be packed; they were used to receiving large turnouts. A movie like Black Widow would be on track to make double the actual box office of $379 million. While this is a hefty example, as it is a Marvel movie, in years prior it would have been expected to make much more. A Disney movie is always going to make much more than a typical movie.
With these trends, an indie movie or a director's starting movie are not likely to do well. Due to this, it is anticipated to discourage the next generation of directors, dissuade original stories instead for reboots, remakes, and a monopoly for major production companies. 
Take Last Night at Soho for example. It was originally scheduled to premiere in September of 2020, but the director, Edgar Wright, kept the movie from premiering for a year until he ensured that Last Night at Soho would premiere in theaters. Even with the wait, it was a disappointment in the box office for an Edgar Wright movie, although it was a critical success.
For artistic directors that have created original movies, the value of having their work viewed in a theater setting matters, so they chose not to release their movies directly to streaming, but to wait until it became relatively safe to return to theaters. This year saw movies from a slew of auteurs including Wes Anderson, Steven Spielberg, Guillermo del Toro, Ridley Scott, and Paul Thomas Anderson. Due to this backlog, many impressive movies have come out this year, which is in contrast to the disappointment of 2020.  
Here is my list of the best movies of 2021:
Disney's

Encanto
You can read Mikayla Hairston's review on the Eagle. 
https://gohsonline.com/5000/features/meeting-the-madrigals-a-review-of-disneys-encanto/ 
My review: 3.5 out of 5
Steven Spielberg's

West Side Story
You can read Gennie Dimmerling's review on the Eagle. 
https://gohsonline.com/4955/entertainment/west-side-story-review-a-promising-start/
My Review: 4 out of 5
Adam McKay's

Don't Look Up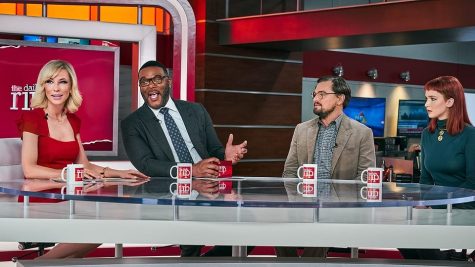 Don't Look Up is a terrifying story that feels part of the uncanny valley phenomenon. It's horribly too close to reality. 
The story revolves around two astronomers who discover a comet on a direct course to Earth. The two, played by Jennifer Lawrence (Kate) and Leonardo DiCaprio (Dr Randall), go on an extensive tour across the United States to attempt to warn humanity and create a plan to save the planet. Instead, they are overshadowed by celebrity drama and politics. 
 When arriving to warn the president of the United States, the pair get pushed aside and only get to see the president after hours upon hours of waiting. Once arriving, the president dismisses their horrific discovery, favoring her midterm review instead. Sound familiar to our current political climate?
Throughout the movie, Kate does everything she can to move attention to the comet in hopes of humanity's livelihood, for this, she is ridiculed. Two movements start, those who refuse to look up and those who acknowledge the impending doom. 
The country, and the planet is divided, rather than being brought together to keep their planet and all of the life whose lives depend on its survival (which is every living thing) safe. 
This movie terrified me. It filled me with anxiety. It made me reflect on our current reality. Don't Look Up is an important movie that consumes our fearful reality and sends it back to the viewers. We see the conflicts in an exaggerated manner to act as a warning of the possibilities if, as a society, we put politics over the truth and good of mankind. 
Don't Look Up is currently streaming on Netflix. 
My Review: 4.5 out of 5
Keishi Otomo's

Rurouni Kenshin: The Beginning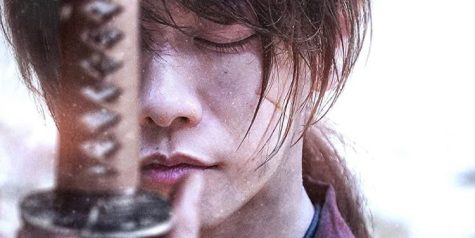 Rurouni Kenshin: The Beginning is a live-action remake of the brilliant anime, Rurouni Kenshin: Trust and Betrayal. Unlike usual live-action remakes, this series of movies has been phenomenal. Rurouni Kenshin: The Beginning is no exception. 
Every part of this movie has been done well, besides the soundtrack. The original anime's soundtrack has the most gorgeous songs you will ever hear. It was disappointing to watch the movie without it. 
The story follows a young samurai during the Boshin War in 1868-69. The civil war was a turning point in Japan's society. The war itself started due to the Rebels being unsatisfied with the Imperialists' handling of foreign affairs. In reaction to the rebellion, the Imperialists acted with great violence, wanting to maintain the Tokugawa shogunate (the current political party). 
Kenshin is a member of the rebellion and in this story, is a major part of the Meiji Restoration. He is a political assassin that kills in hopes of creating a better future. 
Over time, as he is a young man, he becomes disturbed and overwhelmed with the weight of having to end lives. 
I do not do the movie justice. Rurouni Kenshin: The Beginning was beautiful, heartbreaking and completely awesome at the same time. The fight choreography is some of my favorite I've ever seen.
The cinematography stayed true to the anime, it filled me with enjoyment to watch as they, shot by shot, recreated the original. I highly suggest this movie as an introduction to the series. 
You can watch Rurouni Kenshin: The Beginning on Netflix. 
My Review: 4.5 out of 5
Marvel's

Spider-Man No Way Home
You can read Roman Shaheen's review on the Eagle. 
https://gohsonline.com/4928/entertainment/spider-man-no-way-home-is-a-must-see/ 
My Review: 4.5 out of 5
Hideaki Anno's

Evangelion 3.0+1.0 Thrice Upon A Time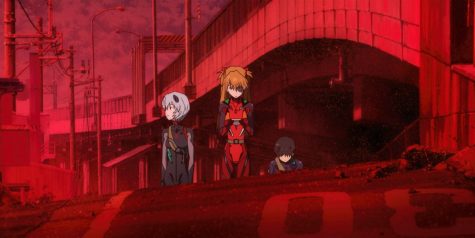 As a lifetime lover of the anime series, Neon Genesis Evangelion (currently streaming on Netflix) the following rebuild series, has been the pinnacle of everything I adore in a story. 
Evangelion 3.0+1.0 Thrice Upon A Time finishes a decades-long era in Hideaki Anno's career. It is depressing, epic and insane, everything I enjoy in a movie. 
The movie is visually phenomenal. Anno does a brilliant job of framing scenes and conveying so much within the images. Even while being animated, the cinematography is a highlight of the movie. It mimics actual filming techniques and knows how to exploit the benefits of an animated environment.
The movie, while seemingly slow as compared to prior Evangelion movies, was paced intentionally. The effect it left off made the story only feel like part of the epic genre.  
This movie was a reflection of Anno's career, emotional state and personal growth. The movie is a final goodbye to the series that has cultivated a massive fanbase, while also being a turning point of change for Hideaki Anno. 
I loved every second of Evangelion 3.0+1.0 Thrice Upon A Time. 
You can watch all four of the Evangelion Rebuild movies on Amazon Prime. 
My Review: 5 out of 5
Wes Anderson's

The French Dispatch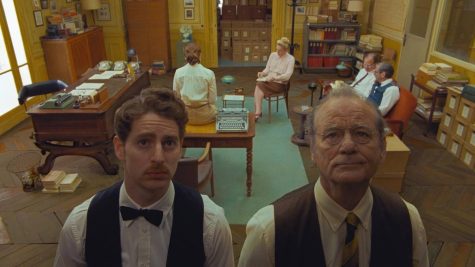 The French Dispatch is a movie that is authentically and completely Wes Anderson. It is a movie that delivered everything I could have desired in a movie. 
The film revolves around journalists within the monthly magazine, The eponymous French Dispatch. The story is divided down to different stories written over the years in this publishing house. The French Dispatch is too wild to fully summarize in words. It is hilarious and unimaginably creative. As a member of the News staff here at GlenOak, I had a splendid time watching the film.
Wes Anderson's movies are always incredibly beautiful and perfectly quirky. This film did a wonderful job of bringing all of his best elements together into one creation. 
The French Dispatch is available to rent on multiple service programs. 
My Review: 5 out of 5 
Lin-Manuel Miranda's

Tick, Tick… Boom!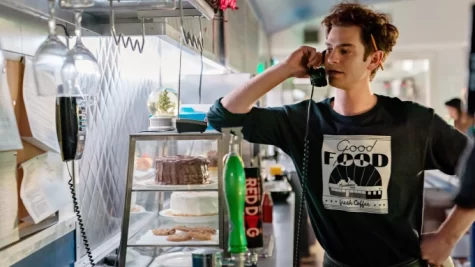 The movie follows the life of Jonathan Larson, the writer of the original Tick, Tick… Boom!, through the songs within it. It does a brilliant job of honoring the promising life of the Broadway composer, lyricist and playwright. 
While it starts slow and I didn't assume I would like it, after the second song, I was completely enamored. When casting for a biopic, casting can be quite particular and Andrew Garfield fit the part perfectly. He is incredibly charming and did his part of the movie process well. 
As with life, the movie had many concurrent themes present. All of them fit perfectly, they wove themselves into and between the songs used from the original Tick, Tick… Boom!, telling the story of Jonathan Larson's life well. 
Lin-Manuel Miranda did a great job on the movie. The cinematography made use of the space beautifully, the choreography was wonderful and the pacing was perfect. 
You can watch Tick, Tick… Boom! on Netflix. 
My Review: 5 out of 5
Edgar Wright's

Last Night In Soho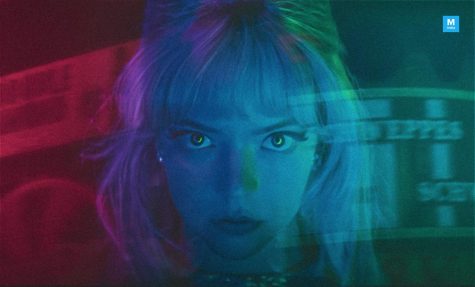 Since my 7-year-old eyes were exposed to Scott-Pilgrim vs The World, Edgar Wright has consistently been my favorite director. I respond viscerally to Wright's kinetic editing, his frenetic cinematography, irreverent tone, his choice of actors and usual visual storytelling.
Last Night In Soho exceeded my expectations. It did not follow Wright's typical style. Wright knew when to implement certain style elements and he did as many practical effects as were needed (which to me, I will always commend more than CG). 
Last Night In Soho was the most visually stunning creation I saw this year. The story had me constantly guessing, which is a special rarity. It was a sublime movie that used every film element to Wright's best. His casting excluded many of his familiar faces, and I did miss seeing Simon Pegg and Nick Frost. But Matt Smith, Anya Taylor-Joy and Thomasin McKenzie did a brilliant job and had the strongest performances I've ever seen out of them. 
 Last Night In Soho is available to rent on multiple service programs. 
My Review: 5 out of 5
Bo Burnham's

Inside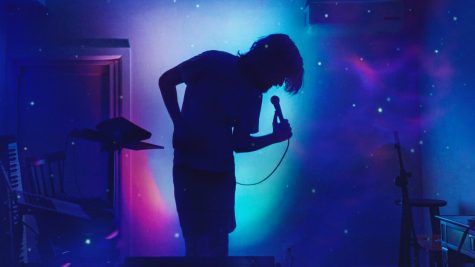 I watched Bo Burnham's Inside the hour it came out (midnight). I laughed so hard I had to pause and wait until the morning to return. I jumped out of bed and was excited to watch it with my best friend and we had a wonderful time enjoying Bo Burnham's creative genius. We laughed, cried and reflected together. I will always remember the experience of watching it fondly.
After that, I watched Inside four more times last year.
Bo Burnham's Inside is a comedy special that is not suitable for everyone, yet I believe it has the potential to appeal to anyone of all age groups. Burnham himself confirmed that "he's just a comedian for eighth-grade girls," and as proven by my younger sibling, 8th graders are one of many of his target audiences. 
The special deals with the hardships of the isolation and fear we all felt in 2020. Bo Burnham has always done a brilliant job at "mixed media art," as he mixes his skills in filmmaking, music production, comedy and his trademark awkward charm. This is the culmination of everything he has learned from all his past creations. I love it. 
I listen to the soundtrack constantly and I am well aware it is not exclusive to myself. The soundtrack has been very popular, and many songs have been used extensively on Tik Tok and Youtube. 
Bo Burnham outdid himself with this one. The amount of emotion he put into Inside is unbelievable and commendable. 
You can watch Bo Burnham's Inside on Netflix. 
My Review 5 out of 5.
Movies I wanted to see but wasn't able to: 
Guillermo del Toro's Nightmare Alley
Ryusuke Hamaguchi's Drive My Car 
Jason Reitman's Ghostbusters: Afterlife 
Valdimar Jóhannsson's Lamb
Paul Thomas Anderson's Licorice Pizza
Julia Ducournau's Titane