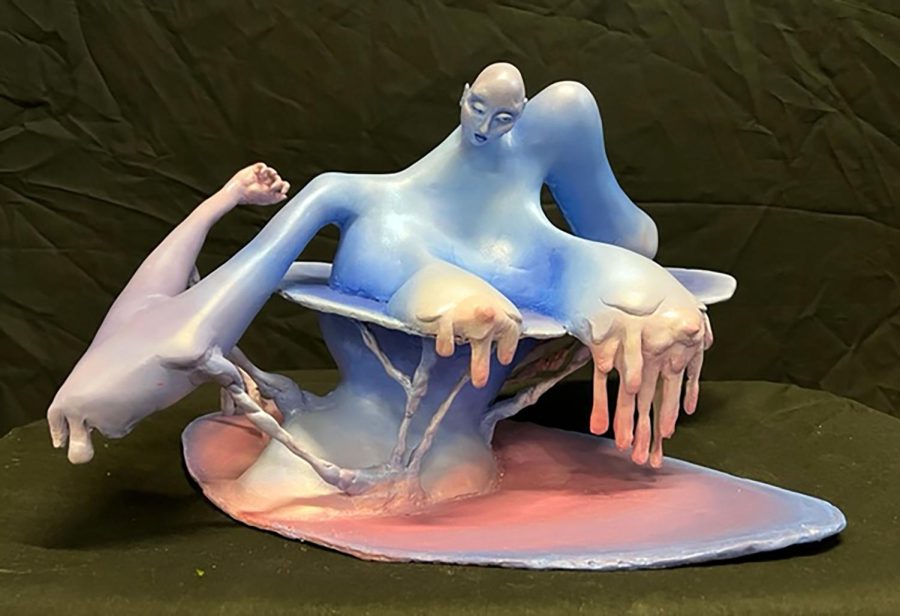 Ecstasy of a Woman-Juliana Castro
How does it feel to have your art be awarded this prestigious recognition?
     It is a very honorable but strange feeling to be awarded for my art through Scholastics, as I know that great artists and writers have won Gold Keys when they were young, such as Andy Warhol and Stephen King. I don't believe that I can compare to the level of artistry and intelligence of those prominent artists, and so I don't feel entirely deserving of such an award. I am incredibly grateful for the opportunity to have participated in the Scholastics Art competition.
Describe the piece from a visual standpoint
     My work "Ecstasy of a Woman" is a cool-colored sculpture that plays with juxtaposition between the beauty and fantasy of the vibrant colors and the disturbing cool of the distorted female figure. The stretching woman looks to be slowly melting away, starting at the breasts.
What inspired you to make this piece?
     I was inspired to create "Ecstasy of a Woman" as a means to cope with the feelings of worthlessness in relation to the objectification of my female body. I was inspired by the feminist line of commentary of Sarah Lucas, a contemporary British artist that creates various ready-made sculptures. I was also inspired by the California-based artist, Erika Sanada, and her ceramics exhibition that was up in the summer of 2021 in the Canton Art Museum. I was immensely invested in her use of baby blues and pinks in her sculptures and how it contrasted with the terrifying, cannibalistic animals as subject-matter. 
What is the purpose and/or message of this piece?
  I wanted "Ecstasy of a Woman" to be a representation of the exhaustion and dismay felt by women due to the objectification of the female body. I wanted to express the decay of identity and individuality in myself and relate to my audience.
What techniques and methods did you use to create this?
     For "Ecstasy of a Woman", I built the armature using aluminum foil and wire in order to conserve resources and make the sculpture lighter. Over the aluminum foil I applied a thin layer of Apoxie Sculpt, which is an industrial resin clay. I also assembled the tiers with cardboard and layers of acrylic modeling paste. After sculpting, I painted the sculpture with acrylic paint and added eye-shadow shimmer for the shimmer effect on the sculpture.