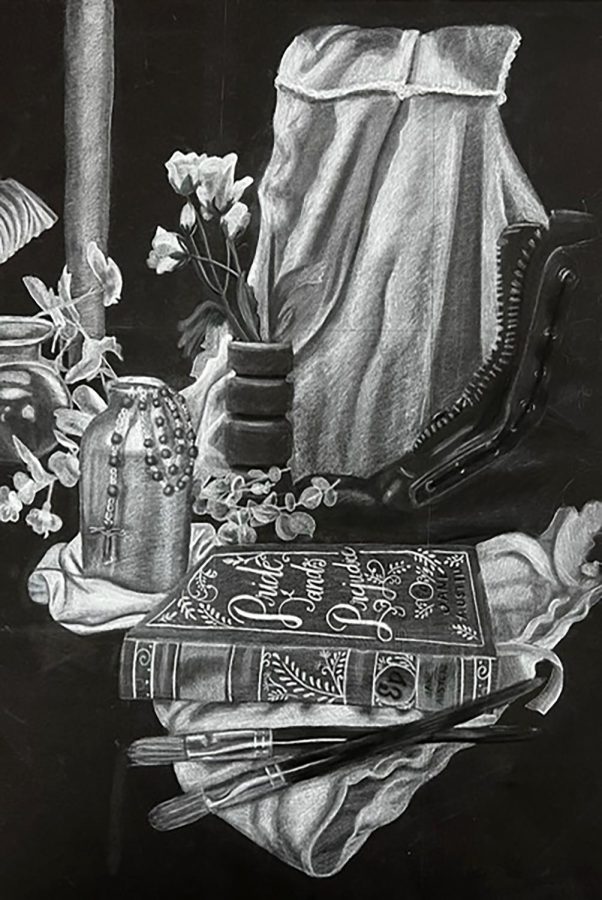 Vanitas Still Life-Victoria Fogarty
How does it feel to have your art be awarded this prestigious recognition?
I'm honored to receive this award, I had no idea that my art could be entered into a national competition such as this, let alone earn a gold key!
Describe the piece from a visual standpoint
It is a black and white still life drawing that depicts many objects including fabric, a book, plants, and paintbrushes.  
What inspired you to make this piece?
The assignment was to choose objects to arrange and draw that symbolized things that are important to you.  I was inspired to choose a few things that I love that also worked well together for the overall composition.
What is the purpose and/or message of this piece?
Overall, the purpose of this piece is to show some things that are important to me.  I chose a book, paintbrushes, a rosary, and plants to not only create a pretty display, but to represent things that are important to me.
What techniques and methods did you use to create this?
For my piece, I used white charcoal on black paper.  I implemented a lot of blending techniques, reduction drawing for shadows, and mark making for texture.