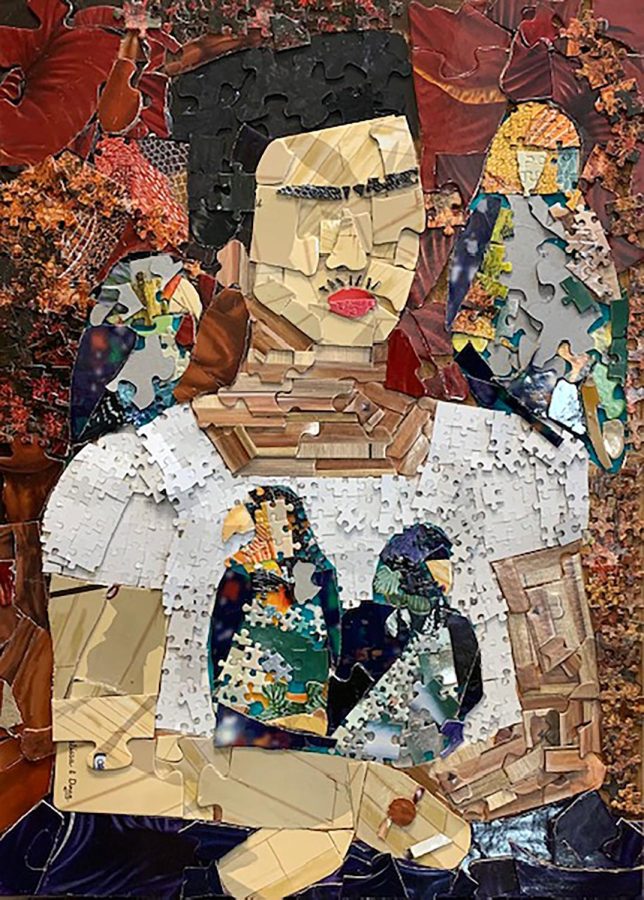 Conversations with Parrots-Aliyah Priest
How does it feel to have your art be awarded this prestigious recognition?
It feels like a needed validation to know that my art has grown from my previous years. Also that others are recognizing my art and not just my family and art teachers.
Describe the piece from a visual standpoint
It's a pretty big piece and the media I used is puzzle pieces. The puzzle pieces are organized in sections of color to mimic the original piece I appropriated. There is a woman (Frida Kahlo) and three parrots surrounding her.
What inspired you to make this piece?
We were having a collage unit and to get inspired I usually look at artists I look up to. I was looking at Frida Kahlo paintings and saw two pieces I liked: the one I did (Me and My Parrots) and Self Portrait with Thorn Necklace and Hummingbird. I chose the one I did because the colors would be easy to show with puzzle pieces because there was more contrast. I chose what I did because I researched what parrots symbolize and I found that they represent mirroring like seeing yourself through someone else because they mimic what they hear, then I chose puzzle pieces to show putting together your own identity.
What is the purpose and/or message of this piece?
It is to show seeing your true self and trying to put it together so overall however you want to interpret it, it's about identity.
What techniques and methods did you use to create this?
I used color theory to pick what I was going to do and how because it would be most visually pleasing to do colors that contrast and vibrant colors in general. I did a wash on the board I used which I just painted a muted color that serves as the base layer of the art so there is no white peeking through. And I cut, overlapped, and flipped some puzzle pieces to get the look I was achieving.