Seniors remember lost classmate
IB Seniors put on a memorial event for passed classmate Delaney Riley
It is a crisp autumn day in 2015, as around 800 students walk to first period class at Glenwood Intermediate. Something, or rather someone is missing.
A fun-loving spirit, a kind-heart, and a smile that was known throughout the hallways of Glenwood Intermediate, Delaney Riley.  On Sept. 16, 2015, she collapsed on her way to school from an undiagnosed heart condition.
It has been seven years since Riley's passing and two of her close friends have decided to honor her memory once again.
Seniors Madison Dentler and Jazel Issa have organized the Delaney Grace Riley Lantern Memorial, which will take place Sept. 16, at Veteran's Park. 
"You know when you get to fifth grade and you don't know anyone so the first person you talk to in homeroom immediately becomes your best friend, that was Delaney," Issa said.
Riley's death hit many people hard. The goal of this memorial is to allow the community to grieve together once again. It also serves as a birthday celebration; Oct. 25, would be Riley's 18th birthday.
"The original memorial back in 2015 had a balloon lift off where our entire grade released the balloons, so we are paying an homage to that as we release the balloons again, and we are going to be releasing 18 lanterns in honor of her 18th birthday," Dentler said.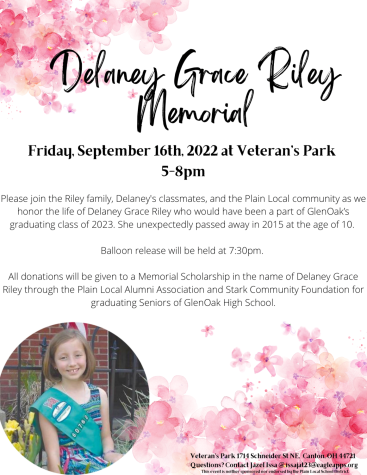 Riley impacted the lives of so many people and as graduation is fast approaching for the class of 2023, her friends and family realize the name that they will not hear at graduation this spring. Part of Issa and Dentler's motivation for the memorial is to honor Riley during their senior year.
"I feel like the memorial keeps her memory alive, and even if she can't go on to graduate at least her name will live on and we won't forget the amazing girl she was," Riley's close friend, junior Abby Watson said. 
Her name will be remembered through the memorial, the iconic rock in front of the high school will be painted by the class of 2023 for Riley, and the Delaney Riley Scholarship fund.
Riley's father hosts an annual golf tournament to honor Delaney. last year he raised $10,000 for the scholarship. The scholarship will be awarded to someone in the class of 2023, the criteria for the scholarship will be determined by her parents.
Riley made an impact on everyone she met, and she continues to do so. Her memory lives on through her friends and family.
"Delaney and I grew up together, she helped shape my personality," Watson said. "I have so many core memories with her."
As the seven year anniversary of Riley's death approaches, her friends and family invite the community out to Veteran's park from 5-8 p.m., Friday, Sept. 16.