Black Panther: Wakanda Forever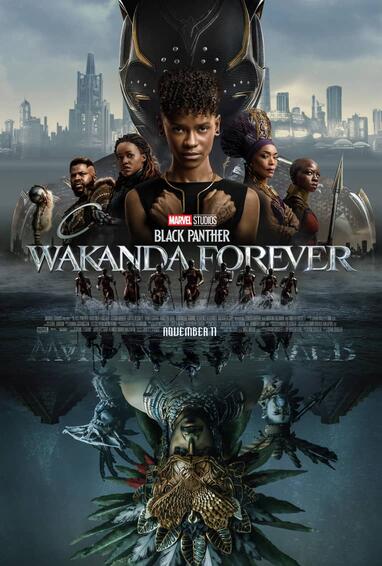 With the passing of Chadwick Boseman, the future of Black Panther was uncertain. Walking into the theaters to watch Black Panther II: Wakanda Forever, I was skeptical of how Marvel was going to continue on with Black Panther. 
Marvel successfully pulled off the sequel to Black Panther, as they not only continued on with an intense plot while mourning the loss of King T'Challa. Apart from the actual movie, Marvel set up the movie in a way that lets Black Panther continue on.
Many other viewers felt the same way as this was the first superhero film to get a best picture nomination at the Oscars. It was also one of the highest-grossing movies of all time. 
SPOILERS WILL HAPPEN BEYOND THIS POINT! 
In the opening scene, before the Marvel intro rolled, they were in Shuri's lab where the cast was in panic as T'Challa was dying. The directors jumped right into how they were playing off Boseman's death. I was uneasy going into this movie because I was unsure on how they were going to kill him off. 
With T'Challa's death, I thought that Shuri would take over and be queen but Queen Ramonda stepped back into play when they went into the scene where they had a meeting with the United Nations. With the other nations' discovery that Wakanda had all the vibranium in their possession, France tried to break in and steal from the Wakandians. During this scene, I was skeptical of where the plot was going after this because the other countries were going crazy trying to find vibranium in other locations. 
Later in the movie, they revealed a new group of people called the Talokans who live in the water. I found this group to be quite odd, especially their leader, Namor, who had wings on his feet. This group also felt a bit overpowered as it made the Wakandians look weak. 
Along with this new group entering, a new Black Panther was revealed, which ended up being Shuri. I kind of expected her to be the new Black Panther as she is King T'Challa's sister. I am excited to see her development in the future as she grows with this new ability. 
A new outside character was added in, she built the machine that allowed the other countries to find vibranium in the bottom of the ocean, her name is RiRi. I felt that she was oddly thrown in without much context behind her, which seemed to be a common theme throughout the movie. There was a lot to this movie, but not a lot of context behind it. 
While the directors packed up the movie with new characters and ideas without much context, the way they displayed the action throughout the movie was visually well done. I also was pleased with the fact that they still mourned and honored the loss of not only T'Challa, but the actor behind him.
I also found the end credits of the movie heart warming as it was uncovered that Nakia and T'Challa had a kid and was named after him. While Marvel started away from their normal two-end credits scenes, it was pleasing to find that they honored T'Challa and Boseman in this way and did not overshadow this moment with another end-credit scene. 
While there were parts where the context was lacking, I feel this movie was good, but it definitely could have been better. I hope they keep expanding on Shuri's development as the new Black Panther in later movies, along with the Talokans, because it is clear to see they are not done with Wakanda yet.