A spread out district
The experience of students living in Plain Local who live on the line of another district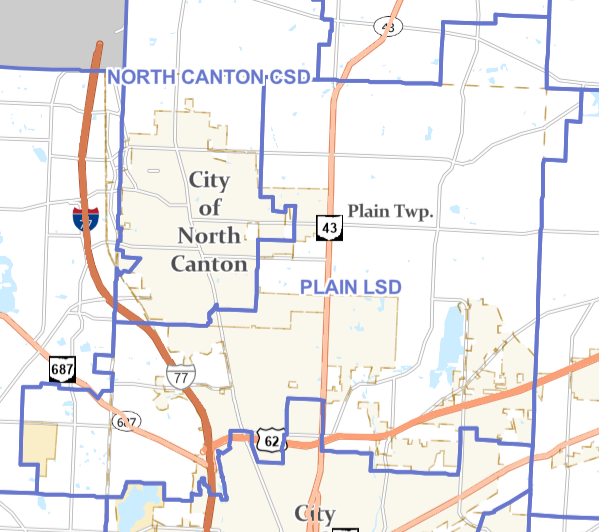 On one side of the street, students board the bus to travel to GlenOak High School, while on the other, they board to travel to McKinley High School.
The Plain Local School District is around 28 square miles. Students travel from as far away as the Belden Village area all the way to Walmart on 62.
The district's vast boundary lines cover many neighborhoods consisting of cornfields to dense housing. Unlike many districts in Stark County, Plain Local borders six other districts meaning many Plain Local Students live on boundary lines of different districts. Each student has a different experience according to where they live. Which makes GlenOak a diverse district.
Steve Patterson is a sophomore and lives in the area that surrounds Glenwood, which is very close to Canton City. Some of the areas are even considered to be Canton City.
"The problem is I live on the outskirts of Plain Local," Patterson said. "If I took a five minute walk, I could be in Canton City."
Living so close to another district can cause feelings of not being a part of the district.
"I feel like I live in Canton City," Patterson said.
For some students though, it is not just a feeling. They do not truly live in Plain Township, but still go to the high school.
Sarah Hall is a junior at the high school who lives off of Everhard Rd. in Belden Village.
"My neighborhood is technically North Canton," Hall said.
Hall's commute is around 10-15 minutes, but for some students, it tends to be even longer.
Addison Postlewaite is a junior at the high school who lives next to Hills and Dales by Jackson. GlenOak is around 20 minutes away from her, which can make it hard to get to and from the school.
"I'm definitely closer to Jackson and it would be more convenient to go there," Postlewaite said.
Still, Postlewaite is happy to be able to go to the high school.
"Even though it is inconvenient and out of the way I'm glad I go to GlenOak," Postlewaite said.
But, living so far can make it difficult to get to areas around the district.
Drew Strickland is a senior at the high school who lives in the Diamond Park area near Lake township.
"It's hard to get to some of the things around the district," Strickland said.
There is no centralized point in Plain Local, which is what can make it so hard to get to things around the district. This includes things like extracurricular activities, or sports that may be going on.
For some students, it's not the drive, or the boundary line separating the districts. Instead, it's just the neighborhood they are living in.
Joe Andrews is a junior who lives near Louisville.
"I would say I feel a part of the district but I really don't feel like part of the community," Andrews said. "It's not a very close community."
There are a few students who do have some differentiating views. Such as junior Jack Summers who lives by Meyers Lake in Perry.
"I live in a nice and quiet suburban neighborhood," Summers said. "I don't feel like I'm not a part of the district."
Though it might be hard to tell which area is which in Plain, it makes for a very diverse district, even if the long drives and lines are tedious at times.