What is trending this prom season?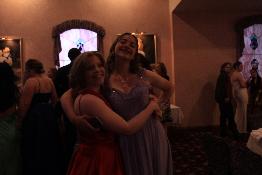 When it comes to Prom, you want a dress that will be proud to have lived on in your pictures forever. Prom dress styles vary greatly, and with the ever changing fashion trends, it can be hard to determine which dress to pick. Here is what is trending. 
From big poofy skirts and even poofier hair to sleek silk designs, a prom dress could make or break someone's night. It also allows for you to express your personal style, and is a great way to make a statement. Prom is the one night of the year that everyone can feel like a princess. 
Feeling like the royal family is what Prom is all about, and you need a dress to reflect that. Wearing an over the top ball gown with a giant train definitely embodies this feeling. Combine glitter, tulle and a tiara and you have got yourself a classic royal look. 
A classic black dress is a go to, and even though it is not as unique as others, it is something people can depend on. Black dresses still come in all shapes and sizes, and you will not be limited to just a plain dress. For example, a big sparkly tulle skirt with a corset top is high in demand this year. 
Corset tops that have been built into dresses have risen in popularity. With visible boning and glittering fabric, it is no wonder that people flock to these dresses. These dresses normally follow a "cottagecore" theme. 
Another style of dresses that have come into light is the introduction of "cottagecore" and summer styled dresses. These dresses are often ankle length and flowy. Even though these dresses are bought for Prom, they can still be worn for more than just a school dance. This makes them very practical and understandably popular, as being able to wear an expensive dress more than once is always a treat. 
Who says that the perfect Prom dress is actually a dress? While big skirts and rhinestones are the traditional take, a prom suit requires less maintenance. With no worry about sequins or feathers falling off, prom suits allow for simple and easy maneuverability. Even though they do not have the extravagance of a typical prom dress, prom suits can be just as flamboyant. With a multitude of fabric and materials, you can recreate your favorite prom dress look into a pair of pants and a blazer.
There is not just one way to go about Prom. Feeling comfortable in what you are wearing is the most important part of picking out a prom outfit. Whether you want to go full out royalty or go with a more simple option, Prom is a place where you can show off your personality through what you are wearing.