Meet Me At Midnight
Taylor Swift's new album: is it a bop or a flop?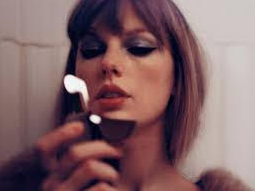 On Oct. 21, Swifties across the nation stayed up until midnight staring at Taylor Swifts' Spotify page. After Taylor took to her social media pages to announce the names of each track, the anticipation around the album only grew. But now the real question is; did the album live up to the expectation?
"Midnights" incorporates different aspects and vibes of each of her more recent albums. From the 3 am track (the bonus tracks on the album), Paris gives us the "1989" pop feel to Karma, with the "Reputation" album vibes. She lets us revisit many of her iconic eras all through one album. To ultimately decide whether or not the album lived up to the high standards it was set to, here is a breakdown of each song. 
Let us begin with the album opener, Lavender Haze. Personally, I feel like, in her past albums, Swift's first song was always one of the worst. However, this was not the case in Midnights. Lavender Haze was a strong start to the album and really set the tone for the rest of the lineup.
Following Lavender Haze, we have the slow sad song that is Maroon. I feel like she strongly tied her older "Red" era to her "Evermore" era with this one. It is the perfect sad autumn song and it is one of my favorites on the album. 
Next, we have her iconic single, Anti-Hero. Although the message of this song is very relatable, I feel that the lyrics were bland, especially for Taylor Swift. I loved what she did with the music video, it was very unique compared to her other music videos and it was inspiring how she incorporated her eating disorder. However, the song lyrics itself I found to be lacking depth and what made her feel as if the world is always against her.
Snow on the Beach featuring Lana Del Ray might be the most disappointing song of the entire album. Swifties went crazy when we heard that we were getting an iconic Lana Del Ray feature on the album. But once I played the song, I had to turn it all the way up and play it all over again just to make sure that Del Ray was even in the song. The heavy advertisement on her feature led many people on and was a letdown as Del Ray only had background vocals in the song. This song has potential and I think I would have enjoyed it more if I wasn't let down by the lost feature.
You're On Your Own, Kid is the song that really left me crying in my bed at midnight. To the heartbreaking bridge that stated "I gave my blood, sweat, and tears for this. I hosted parties and starved my body like I'd be saved by a perfect kiss." The course of the song showed listeners all of the letdowns that we may face in life. But by the end, Swift gave us hope to not give up when faced with adversity.
These next two songs were an upbeat and unforgettable addition to the album. In my opinion, Midnight Rain was a sanguine interpretation of one of her songs on "Evermore", Champagne Problems. Both songs talked about Swift rejecting a proposal however, Champagne Problems showed the dismaying side of that. Whereas Midnight Rain gave listeners a bit more closure as to why she did it. Although the two songs are about different people, they still deliver the same message in different ways.
Next is Question..? I believe it is the most underrated song on the album. It is a catchy song that takes us back to one of my personal favorite eras, 1989. As a change of pace, Vigilante S**t really changed the course of the album. It was an interesting and well-executed song but it did not quite match the rest of the album.
Giving that true confidence that Swift never fails to deliver, Bejeweled is next on the lineup. This song brings back the bubbly Swift we all know and love and includes a show-stopping music video. Karma is the ultimate "Reputation" vibe where Swift reminds herself and everyone around her of their self-worth. The chorus states, "Karmas' a relaxing thought, aren't you envious that for you it is not?" 
Sweet Nothing is one of the most heartbreaking songs on the album. This song added that sad and hopeless relationship song to the album which is one of Swift's specialties.
Labyrinth is an ethereal change of pace to the album. It beautifully talks about how someone you love can pull you out of a bad place. Personally, I thought this was an elegant and interesting piece to add to the album and fit in really well.
Last but not least, we have the relatable and powerful song Mastermind, an incredible end to the album, and what the album as a whole was missing. It showed the hardships that Swift experienced throughout her childhood and how she came back from them even stronger.
This album took us on an emotional roller coaster, from making us feel like we're on top of the world to leaving us broken in tears. And I didn't even mention the seven additional 3 am bonus tracks of the album. 
Ultimately, I would be lying if I did not say this album was amazing. Although I was let down by a couple of songs, most of the lineup left me speechless and in awe. So is this album a hit? Yes, it is absolutely worth listening to if you have not already.